Third Thursday – The Downtown Punta Gorda Experience

Third Thursdays are back!  Punta Gorda Downtown Merchants and the Punta Gorda Chamber of Commerce are pleased to sponsor "The Downtown Punta Gorda Experience" on the Third Thursday of every  month.  This a new venue that takes the place of previous events Gallery Walk, Alive After 5, and Wine Walk, and features art, music, shopping, and food from 5:30-8:30 pm.  Shops and businesses will be open for browsing, and there will be musical entertainment.  Start the evening by picking up your map of participating businesses and their entertainment offerings at Hector House Plaza (across from the Old Courthouse.) Then take a pleasant walk through historic downtown Punta Gorda, visit the shops, and stop in at one of our many fine restaurants for a leisurely meal.  Sea Grape Gallery will be ready to welcome you with complimentary refreshments and artist demonstrations.  Our artists are always available to assist you, and to discuss their artwork and techniques.
"The Downtown Punta Gorda Experience" has been suspended for the summer months.  We look forward to seeing you on October 20th!
Images from our Puzzle Themed May 19th Experience
Jim Beech demonstrated how to have fun sketching with ink pens.  Several people solved our picture matching puzzle, giving them chances to win a beautiful giclee print donated by Sue Krasny.   Here's the happy winner!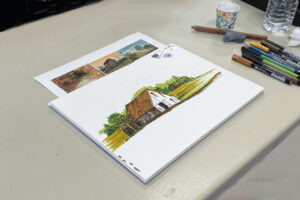 Images from our Flower Themed April 21st Experience
Joanne Stramara demonstrated painting sunflowers in watercolor, and our customers enjoyed creating their own watercolor mini flower paintings with the help of experienced instructor Barb Albin.