Winter Hours (October through April)
Monday – Friday, 10 am to 5 pm,  and Saturday, 10 am to 4 pm
THE GALLERY IS TEMPORARILY CLOSED AT THIS TIME DUE TO DAMAGE FROM HURRICANE IAN.
WE PLAN TO REOPEN IN THE NEAR FUTURE.
Sea Grape Gallery is a cooperative fine art gallery located at 113 W. Marion Avenue in downtown Punta Gorda, Florida.  The Gallery has been recognized for over 34 years by local and seasonal patrons as the premier venue for high quality fine art.  Over 20 award-winning artists participate in Sea Grape Gallery, and one of our knowledgeable members is always on hand to assist you.  The Gallery offers a variety of unique artisan crafts as well as paintings and photography.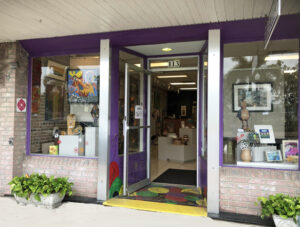 As you browse through our bright, friendly gallery, you will find:
Paintings in oil, acrylic, watercolor, mixed media, and colored pencil.  Painting styles range from realist to impressionist to abstract and experimental, and giclée prints are also available.
Photography, including underwater photography and Southwest Florida wildlife subjects
Jewelry, featuring wire woven silver pieces, bead woven pieces, and engraved and enameled jewelry
Pottery, including slab, wheel-thrown, stoneware, raku, and horsehair
Fused Glass, including decorative panels, plates, and vessels
Basketry, featuring Nantucket and Shaker reproductions, and Florida pine needle artistry
Handcrafted Kaleidoscopes of various sizes and colors
Celebrating 34 Years as your Fine Art Gallery